Buying Subscription
Buying Subscription
TMetric offers three subscription plans: Free, Professional, and Business.  Check out the detailed plan comparison.
Buying a subscription
You have an option to evaluate one of the paid subscription plans before buying it. We offer a 30-day free trial for both Professional and Business plans.
After the trial, you can buy the subscription:
Go to Manage on the main menu and click Subscription.
On the Current plan tab, click Buy Now.
On the Buy Subscription page, specify the number of users in your account and the billing period (monthly or annual). Depending on the choice you made, you will see the total price calculated automatically.
Click Proceed To Checkout.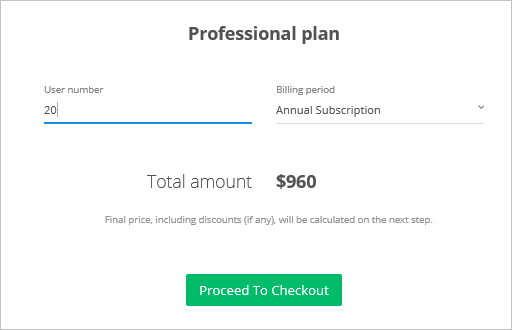 Сlicking the Proceed to Checkout button will redirect you to the payment gateway to complete the payment. As soon as the order is approved, your TMetric account will be updated automatically. 
Users not covered by subscription
When you buy a subscription plan for a number of users which is less then the number of members in your account, extra users will be locked by subscription. In TMetric, you can configure which users should be locked and which ones should remain in the account.
Note: Features that are not available in your current plan are marked by the information icon. If you click it, you will get a message like this: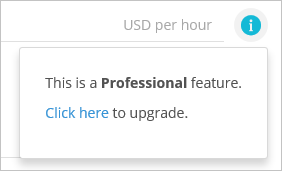 See Also