Using Cost Rates
Using Cost Rates
In TMetric, you can assign cost rates to members of your account. These are the internal rates you pay employees. 
Сost rates are used to calculate billable amounts and costs reflected in Project Summary and Team Summary reports to help you see project revenues and expenses.
In other words, the member cost rate is what an employee or contractor costs you as a business. 
Setting up member cost rates
1. Go to Manage, select Members, and click a required member. The Edit Member page will open.
2. Enter a corresponding values in the Cost Rate field.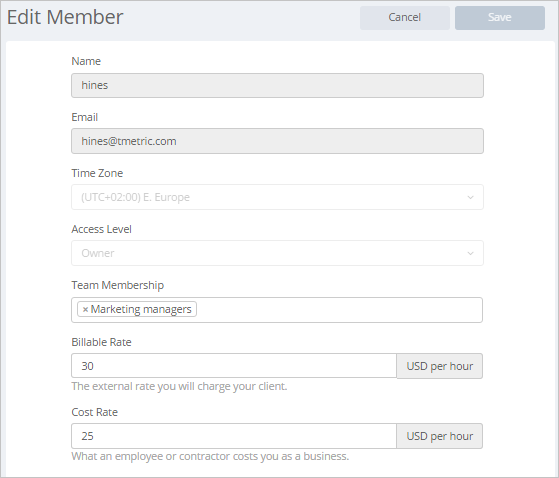 Changing member cost rates
Changes to the member cost rate apply the very same day you've changed it. The changes affect all the working hours of that day, regardless of the time you've made it. However, the work time preceding this change will be associated with the old cost rate of the member.   
So, on a practical level, if you decide to raise a salary of an employee next month, it would be reasonable to change the employee's cost rate on the 1st working day of that month to avoid manual recalculation of the salary.
Who can see member cost rates
Only the account owner and assigned admin can see and edit cost rates of a member.
See Also