Android App
Android App
This topic describes how to use a TMetric app on Android: either a mobile phone or a tablet device. You will learn the basics of mobile time tracking with TMetric, what features the mobile app includes and why to choose it for tracking your work time.
TMetric mobile application allows you to track time from anywhere and at any time. This can be quite convenient for those who work remotely or when you are out of the office (at the meeting, conference, etc.)
With a mobile app, you can perform the following actions: create an account, log in to TMetric, start/stop a timer, see an active timer running, fix a timer, switch workspaces, add/edit a time entry, create a project, add breaks, use team view to monitor your team, create reports, and much more. 
Install the TMetric app to your phone or a tablet device and track time on the go. The time recorded on the mobile app is automatically synced to the web app and vice versa. Just swipe down to refresh the screen content.
Login
After successful installation, run the app on your mobile device and log in to your TMetric account: either by entering your username and password or signing in with your Google account.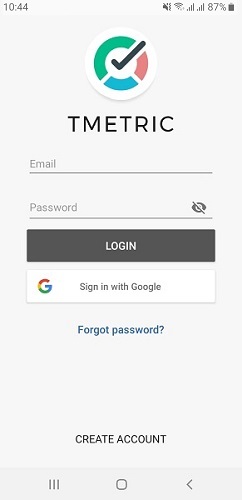 If you don't have a TMetric account, you can easily create one for free by tapping the Create Account link below. 
Start timer
When logged in, you can start tracking your time by tapping the green button on the main screen.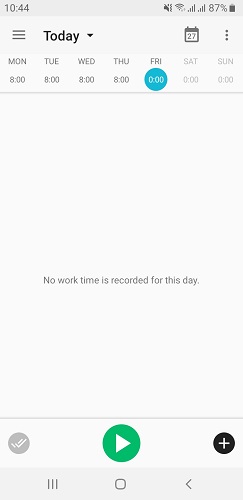 Edit time entry
Once you start the timer, the Edit time entry window opens. Here you can set the start and end time for a task, add the task description, select a project the task belongs to, add tags and enable the Billable option if the project is billable. Tap Save when finished.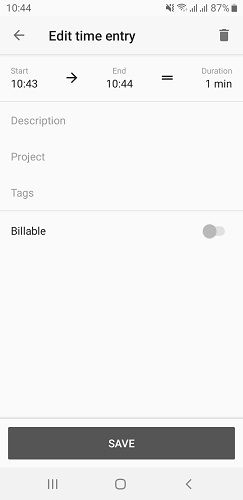 After you save the time entry, it will appear on the timesheet. If you don't edit a time entry, TMetric will start a new task with no description.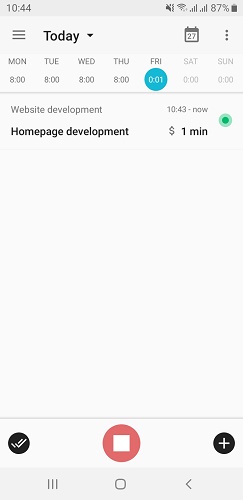 To stop the timer, tap the red button at the bottom of the screen. 
Long-running timer 
In TMetric, time entries cannot be longer than 12 hours. If it happens, the app will prompt either to discard the timer or fix it. If you select Discard Timer, the time entry that is longer than 12 hours will be deleted. Fix Timer allows you to manually set the end time of the time entry.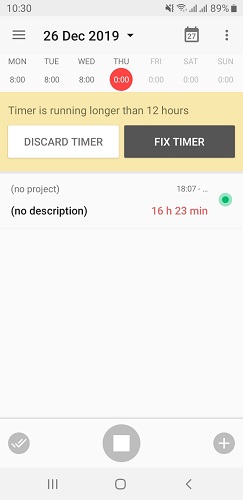 Switch Workspaces
You can quickly switch from one workspace to another by tapping the Options menu in the top left corner and selecting the workspace you currently need. 

From the Options menu, you can also open a timesheet, select Team View to monitor your team performance, go to the Reports screen, open the Settings and log out of the app. 
Navigate between days
You can easily open any day you need by swiping the time bar back and forth or selecting the required day in the handy drop-down calendar.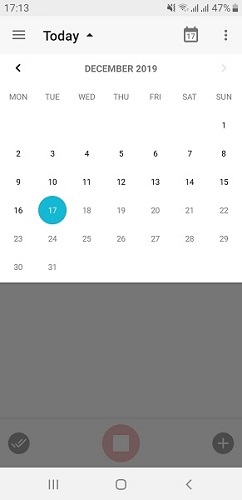 Add new time entry
You can add a new time entry by tapping the Plus button on the main screen. When the Add time entry window opens, you need to describe a task, select a project and tags for it. Tap Save when done.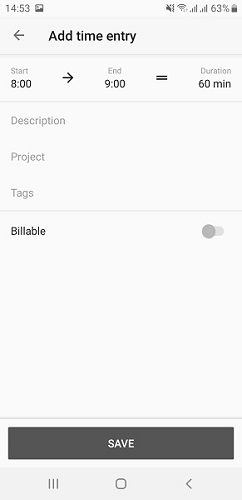 Delete time entry
TMetric lets you edit and delete a single time entry and multiple time entries at once. To use Bulk Delete for multiple time entries, tap the Bulk Edit button below.

In the window that opens, select the time entries you want to delete and tap the Recycle Bin icon.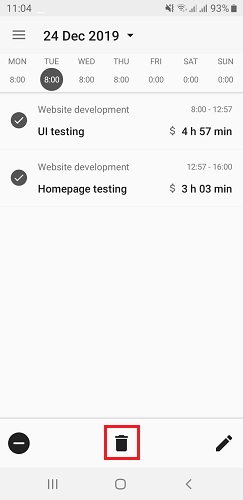 To edit multiple time entries, tap the Edit icon below. 
Add breaks
To add a break, tap the overflow menu and select Add break. Set the start and end time for a break and tap Save.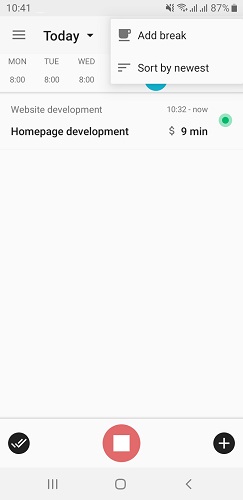 Create reports
TMetric mobile app allows you to easily create a report, which will display summarized information on projects, time, billable time, and billable amount for a selected time range.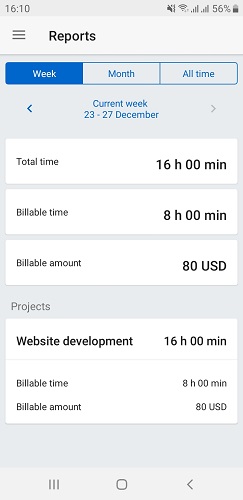 Note: Mobile time tracking can be disabled by a workspace admin. You can override this restriction for individual members if necessary. 
---
Didn't find what you were looking for?
If you didn't find what you were looking for, you can make a support request or email us to [email protected]. We'll be glad to help you personally.
Contact Us