Monitoring Team's Work
Monitoring Team's Work
Note: This functionality is available only to Team Lead, Administrator, and Owner.
To monitor work of a team:
On the Tracker page, click the My Time arrow.
To view the work of all members of a team, select the team name from the drop-down list box.
To view the work of a certain user, select their name from the drop-down list box.
If you want to view team's activity for the day other than today, select the required date.
The work of each member is shown as a separate timeline with a member's name and the indication of total time worked for a day.
Users without logged time are also displayed on the team view page.

If a user has a long-running timer, you will see a notification that they forgot to stop their timer at the top of the page. If you click a user's name, you will jump to their Time page, where you can fix the timer manually.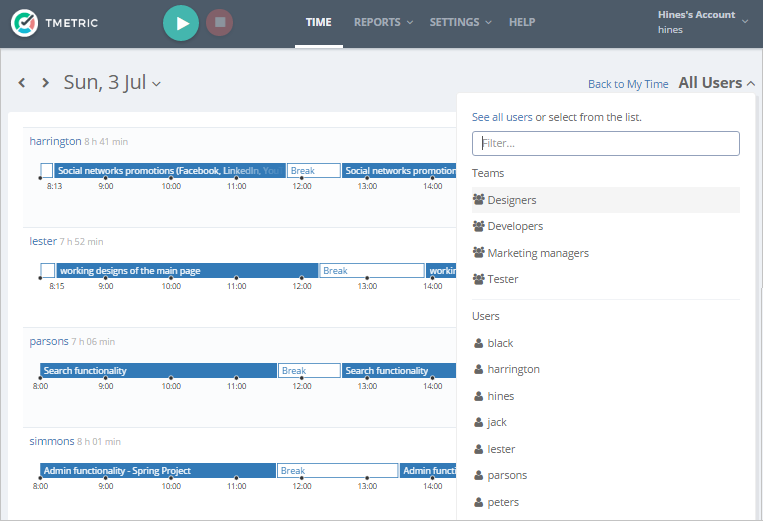 By default, TMetric shows the team activity for today. To view the team activity for past days, click the Calendar arrow, and then click a required date on the calendar. Alternatively, navigate to a required date using back and forward arrows.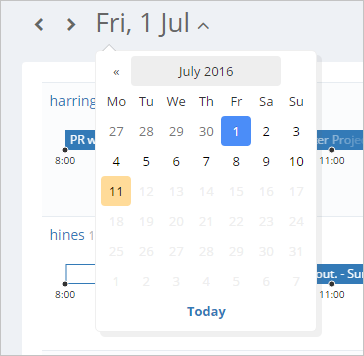 To exit team's work monitoring, click Back to My Time.
See Also