Quick Start Guide
In order to start in TMetric as a team, you need to register an account in the TMetric system. An account in TMetric is a workspace where users can track their work activity as a team. Everything in TMetric is assigned to a specific account - members, teams, projects, time entries, etc. There are two ways you can start in an account.
1. The first way is when you create the account.
The one who creates an account is the account owner and can invite other team members to the account.
2. The second way is when you got invited to the account. 
You will get a signup invitation by e-mail with a link leading to the registration page. 
In case you're already registered with TMetric, you will receive an account invitation email with a link leading to the account main page. Make sure that you are under the correct account before you start tracking your working time.
Note: Your current account's name is displayed in the top right. To switch to another account, click the arrow next to the account's name and select the required account from the drop-down menu.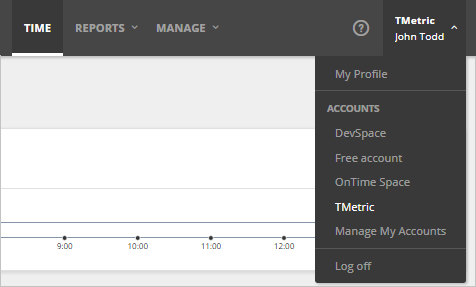 See Also