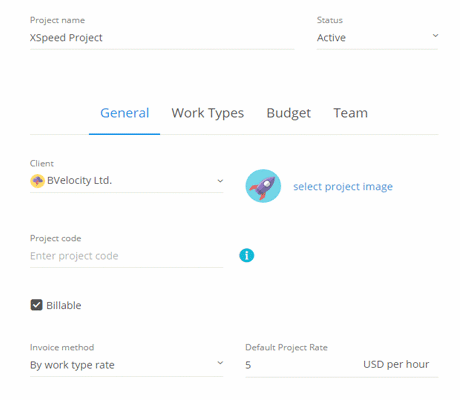 Setup Projects, Budgets and Rates
Create projects and set up budgets either as time estimates or as money sums. Assign billable rates per project, work type or person. Assign your projects to clients for transparent reporting. If you are a consultant agency, set up billable rates and cost rates for each member of your team.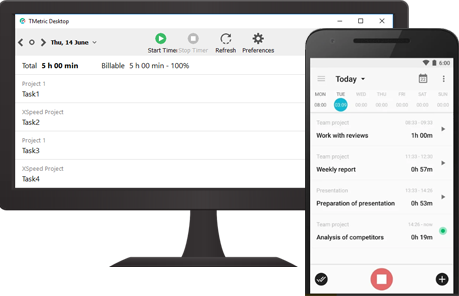 Track Your Billable Time Everywhere
Whether you are a freelancer working from home, a consultant working on-site with a client, or an office employee, TMetric allows you lots of time tracking options. Start tracking with a mobile app, web browser, or desktop app. Your time entries store in the cloud, so you get access to your data across any device.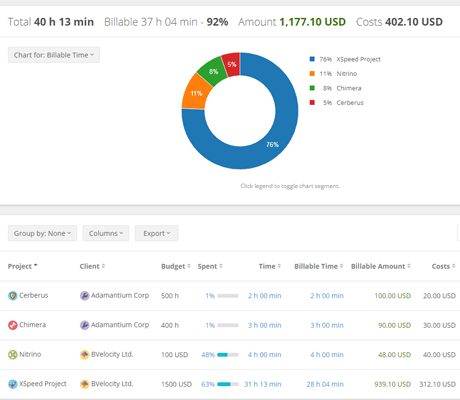 Get All Time and Money at One Screen
Concise and powerful Projects Summary report allows you to view all active projects including data on time tracked, budgets spent, money earned, and costs incurred. Zoom in a project general overview to get the detailed picture with a single click.
Time tracking

Unlimited projects and clients

Reporting

Web app integrations

Billable rates and money tracking

Budgeting for projects

Invoicing

Task management

Activity levels for employees

Apps and sites usage reports

Screenshots capturing

Client logins for access to reports

Payroll for employees

Time tracking permissions

Time-sync with QuickBooks

Time-sync with JIRA and Redmine
Time tracking

Unlimited projects and clients

Reporting

Web app integrations

Billable rates and money tracking

Budgeting for projects

Invoicing

Task management

Activity levels for employees

Apps and sites usage reports

Screenshots capturing

Client logins for access to reports

Payroll for employees

Time tracking permissions

Time-sync with QuickBooks

Time-sync with JIRA and Redmine
Time tracking

Unlimited projects and clients

Reporting

Web app integrations

Billable rates and money tracking

Budgeting for projects

Invoicing

Task management

Activity levels for employees

Apps and sites usage reports

Screenshots capturing

Client logins for access to reports

Payroll for employees

Time tracking permissions

Time-sync with QuickBooks

Time-sync with JIRA and Redmine