Public and Private Projects
Public and Private Projects
In TMetric, you can have either a public or private project.
A public project is a project, in which no members are added.  
A private project is a project with members. To make a project private, you need to add at least one member to the project.
Difference between public and private projects
In public projects:
Any member can log time to a project.
Logged time is visible to all members of a workspace.
Regular members can configure the general settings and work types for a project (optional, see below).
In private projects:
Only the project team can log time.
Logged time is visible only to the

workspace 

owner, admin, and the assigned project manager.
Only 

the workspace owner and admin can configure settings for a project.

The assigned project manager can configure project settings except for billing functionality.
Question: Why do I see somebody else's time in my report? I'm not an admin. 
Answer: Because a user logged time in a public project.
Allowing all members to create public projects
The workspace owner or assigned admin can allow all members in a workspace to create public projects. A regular member can then create a project and configure basic settings:
project name
status
client
project image
project code
add/delete work types 
This feature is especially useful when regular members work in an external web app and log time through the TMetric extension. 
To enable this option
Navigate to Workspace and click Settings. 
On the Settings page, check Allow all members to create and edit public projects.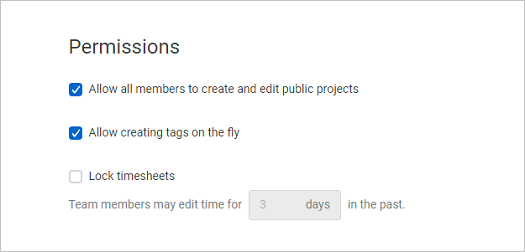 See Also
---
Didn't find what you were looking for?
If you didn't find what you were looking for, you can make a support request or email us to [email protected]. We'll be glad to help you personally.
Contact Us