Measuring Activity Level and Online Time
Measuring Activity Level and Online Time
This article will explain what an activity level and online time mean and how they are measured and interpreted in TMetric. 
Activity level represents the actual user activity at his workplace, i.e. when a user was typing on a keyboard or moving a mouse.
Online time shows the time a user spends on the computer.
How Activity Level is Measured
TMetric desktop starts tracking the user activity once you enable the Record user activity option and run the timer. 
Activity is measured by 10-minute time periods. Its level depends on how active a user is during this time (mouse movements and keystrokes). 
The average value of user activity is displayed in the Team Summary report. Besides the Team Summary report, an activity level is displayed with a set of grey vertical bars on the Time page. Here, you can see the detailed information about an employee's workday: what tasks he performed and how productively. This information is visible to a user and the members with the Owner and Admin roles.
To view your user activity, open the Time page, click the menu in the top right, and then check Show User Activity.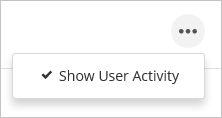 How to Interpret Activity Level
User activity is represented by a set of grey vertical bars that are displayed over the timeline. Each bar represents 10 minutes of your work.
The height of a bar depends on how many minutes of the 10-minute span you have been active for. Hover the mouse pointer over the bar to see 2 top time-consuming events for the period. To get a detailed activity report for the period, just click the bar. 

The activity level may vary depending on the tasks: 
An activity level will be low when a user studies or reads something. 
Also, an activity level may be low if a user is busy with task planning and thinks his work over.
An activity level should be high for permanent and routine tasks, which a user performs automatically. 
When a user types some text, an activity level can be also high. 
Thus, you can compare employees' activity levels who perform the same work and see which of them works more productively.
How Online Time is Calculated
Online Time is measured only by TMetric Desktop. The desktop app sends user activity within each 10-minute time frame to the server (even a slight movement of a mouse is considered as an activity in this case). If a user was inactive for a 10-minute time period, this time is considered as Offline Time. 
 Online Time is calculated as a percentage of all logged time with user activity.

How Online Time should be Interpreted
Online Time should be interpreted based on the user's work nature. For instance:
A

chief who spends a lot of time on communicati

on

with

his

employees will have a lower activity level than the

 one

who spend

s

all day working on the computer.

At the same time,

if a person who works at the computer has

a low percent

age

of Online Time,

this

can indicate that th

e

person

often gets distracted

 at 

work

.
See Also