How to View Detailed User Activity
How to View Detailed User Activity
Summary of all user activity is displayed on the Activity page. Here you will find detailed information about your activity levels, apps and sites you use and visit at work, as well as screenshots of each monitor taken randomly every 10 minutes. 
You can see both your activity and other users' one if you are a team lead, workspace owner and admin. A workspace owner and admin have permission to delete other team members activity: either separate activities or all user activity on the Members page.
To view and manage all of your activity
Go to the Activity page.
Scroll all the activities using a scrollbar on the timeline or clicking the Next and Previous arrows.  
To get details about each 10-minute activity segment, click the View Detailed Activity icon in the top panel. 
Click a screenshot thumbnail to see it in full size.
If you want to see another user activity, click the Select User drop-down arrow and select its name in the list.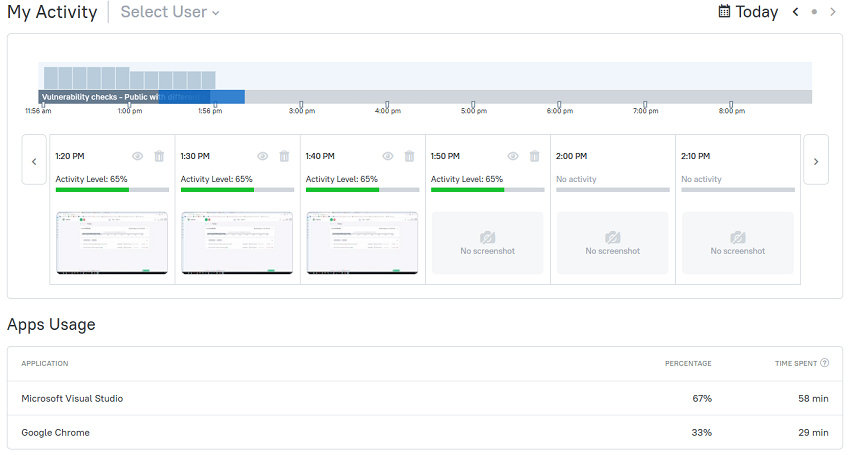 If you want to delete any segment of your activity, you can do it in two ways:
To delete an activity on the My Activity page, click the Recycle Bin icon in the top panel. 
To delete an activity in the Activity View dialog, click the Delete Activity button and confirm the deletion.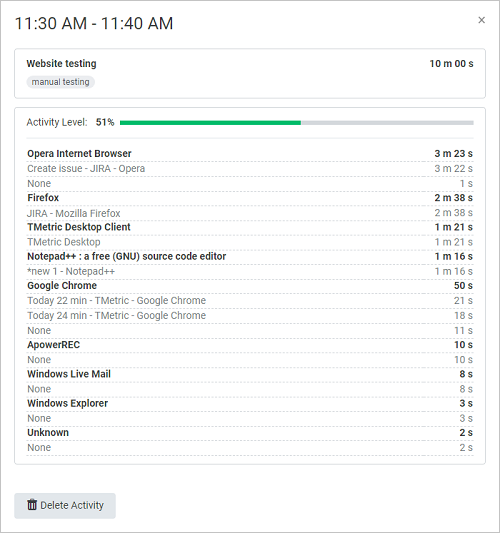 To view your own activity on the Time page 
Navigate to Time

 

on the main menu.

Click the action overflow icon in the top right, and then s

elect Show User Activity. A set of vertical bars will appear at the top of your timeline. 

Hover the mouse over a bar to see 2 top time-consuming events for the period.

Click a required bar to get a detailed activity report for this period.

To view other user's activity, perform the same steps, but before Step 2, open the Select User or Team drop-down list, and click the user or team name whose activity you want to see.
Note: Screenshots are not displayed on the Time page. You can view them only on the Activity page. 
---
Didn't find what you were looking for?
If you didn't find what you were looking for, you can make a support request or email us to [email protected]. We'll be glad to help you personally.
Contact Us