Assembla Time Tracking
TMetric is a free work time tracking web app for professionals and companies. The app integrates with Assembla and other famous project management systems. Use TMetric to track time spent on tasks directly from Assembla.
Below is the instructions on how to integrate TMetric with Assembla. 
Preparing to track your work time in Assembla
Let's setup TMetric so it can correctly capture your work time from Assembla. 
1. Create TMetric account. It will take a few minutes.
2. Install one of the following TMetric browser extensions depending on a browser you prefer: 
3. (optional) After registration, you can also install a time tracking desktop app, so you could track your work activity in details.
Now when you are all set, you can proceed to track work time in Assembla. 
Tracking time in Assembla. How it works
After you create or open a task in Assembla, you will see the TMetric Start timer button as shown in the screenshot below.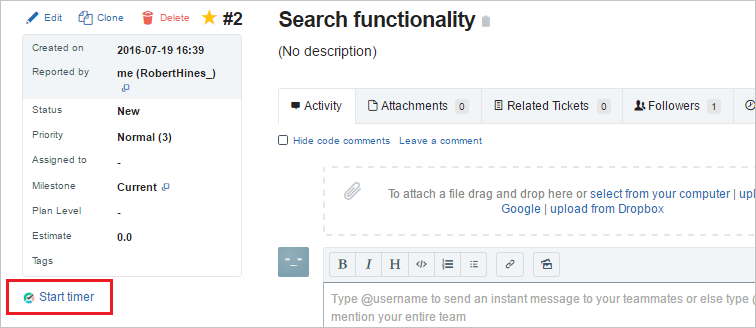 Click the button, and the time spent on an Assembla task will be logged in your TMetric account. Notice that the Start timer button changes to the Stop timer button and displays the time spent on the task.
If you have the status of Owner or Admin when first starting the timer for the issue, TMetric pulls out from Assembla the project name of the issue and automatically creates a project with the same name in your TMetric account.     
The task appears on the Tracker page in the TMetric web application. The name, ID, and project of the task are the same as in Assembla.
You can quickly navigate back to Assembla by clicking the task ID (in our case ID is #2).