Adding and Editing Tasks
Adding and Editing Tasks
This is a Professional plan feature.
In TMetric, there are two types of tasks: internal and external. External tasks are those that are derived from external web apps with which TMetric is integrated. Internal tasks are tasks that are created inside TMetric. This section is devoted to internal tasks. For convenience, we will simply refer to them as tasks.   
TMetric allows you to create and edit tasks inside your workspace.
Creating Tasks
1. Go to Tasks on the main menu, the Tasks page will open.
2. Click Add Task, an empty entry for the task will appear.
3. Enter task description.
4. Select a project or assignee for the task.
Note: If you do not select the assignee, then a user who creates the task will be automatically selected as the assignee. If you don't want to specify the assignee, assign the task to a specific project. If an assignee is not specified for the task, the one who first starts the task will be assigned to the task as an assignee. If an assignee is set for the task and a different user starts the task, the assignee will not change.
5. Optionally, select a tag(s).
6. Click the check button to save the task or the cross button if you want to cancel the task.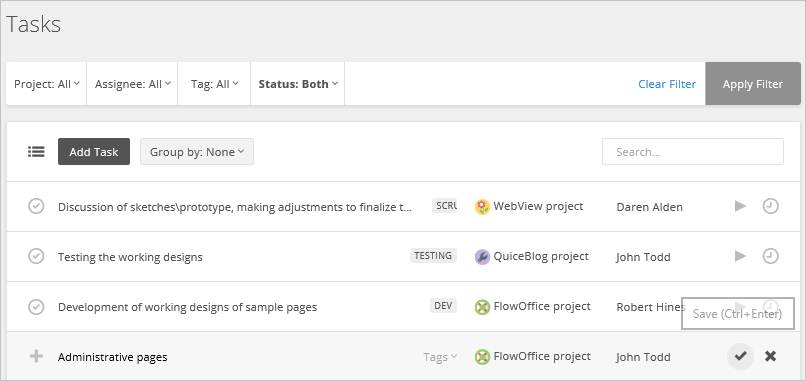 Editing Tasks
You can edit a task on the Tasks page. If you change the task's description, project, assignee, or tags, the corresponding changes will also apply to all the time entries associated with this task. If you change the task's description or project in a time entry associated with the task, this time entry will no longer be linked to that task and will be regarded as a separate time entry. 
As mentioned above, tags can be assigned to a task on the Tasks page. Such tags are considered predefined tags. You can add or change the predefined tags in a time entry associated with this task. In this case, the tags relate only to this specific time entry and the time entry associated with the task is customized. Later, if you add or delete the predefined tags on the Tasks page, the changes will not apply to that customized time entry. In other words, the task and the time entry associated with this task need to have the same tags (or no tags at all) for the tags added/changed on the Tasks page to be reflected in the corresponding time entry.
Filtering and Grouping tasks
On the Tasks page, you can filter tasks by project, assignee, tags, status (To do, Done, Both). Also, you can group the tasks by project and assignee.

Bulk Editing
Bulk editing  lets you quickly edit multiple tasks at a time.
1. Click the list button.
2. Select the required tasks.
3. On the top menu, change the required parameter:
change a project 

add/delete tags

change assignee. Note: you can change the assignee for several task only within a single project. 

copy tasks to another project(s)

delete tasks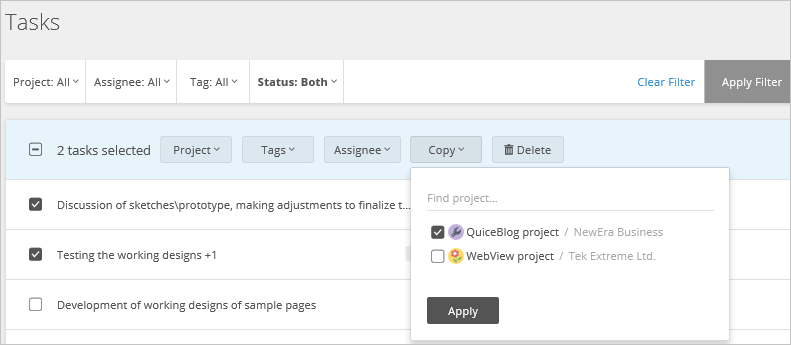 Custom time entry description
See Also