How to Give Vacation According to the Length of Work
How to Give Vacation According to the Length of Work
When you want to express appreciation and recognition to your employees, you can offer some benefits to them. Giving extra time off as a bonus can be quite a good idea. You can motivate your staff to work, and they can balance their work and personal life. 
In most cases, the amount of vacation time earned by employees depends on the length of their work for the company. For example, you have employees who work for your company for more than two years, and you want them to get more vacation time than those who work less time.
In TMetric, for these purposes, you can use the Bonus option. It allows you to add extra time off as a reward to employees after a certain period of time of their employment. 
To set up bonus accrual
1. Go to the Policies page, find the policy you need in the list, and click it. 
2. On the Edit Policy page, find the Accrual section and check the Bonus checkbox. 
3. Enter the number of days, months, or years when you want the bonus to be accrued after the hire date. 
4. Set the number of hours you want to give your employees as a bonus vacation.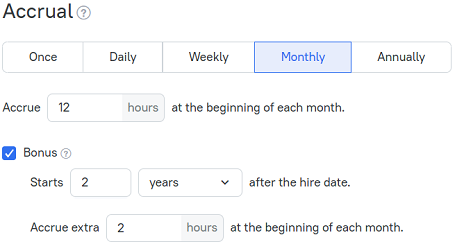 Note: When adding a bonus, the Hire date field will appear in the Members section next to a member name, in case it hasn't been set before (on a user profile page). You will also need to set it when you add a new member to a policy and his/her hire date hasn't been set before. It's used to understand who a bonus should be accrued to (i.e., how long a member works for a company) and to determine the date of bonus accrual.

---
Didn't find what you were looking for?
If you didn't find what you were looking for, you can make a support request or email us to [email protected]. We'll be glad to help you personally.
Contact Us