Adding Time for a Previous Day
Adding Time for a Previous Day
Adding time for a previous day may be useful, for example, when a person was at a business meeting outside the office all day long, so the next day he needs to add this time to TMetric.
Note: To be able to edit the time of the previous days, the timesheets should not be locked from editing in the workspace settings.
To add time for a previous day
Go to the Time page.
Use the date navigation panel located above the timeline. Go to a required day using the

 

Previous day/Next day

 

arrows. To quickly locate a certain date, click the current date, and then select the required date in the calendar.visual-studio-vs-review-assistant.html
Once you land on the day you need, add or edit the time using the timeline or the Add Time Entry button.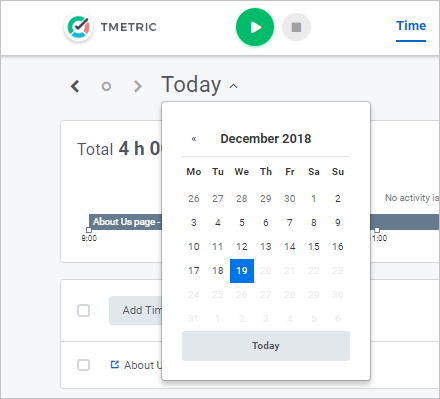 The circle icon will quickly bring you back to today's Time page.

---
Didn't find what you were looking for?
If you didn't find what you were looking for, you can make a support request or email us to [email protected]. We'll be glad to help you personally.
Contact Us