Adding and Editing Time for Another Person
Adding and Editing Time for Another Person
This section provides detailed information on how to edit timesheets and who has a permission to view and modify this data. 
Timesheets should be reviewed and approved when preparing a report on a project or invoicing a client for the tracked time and expenses. Admins have the ability to review and edit timesheets of other workspace members. For their part, team leads can review the timesheets of their team members without making any changes to them. 
For instance, there is an agreement that a client does not pay for the overtime on a certain project. So, before invoicing the client, you need to review the timesheets of the members involved in the project to issue an accurate invoice.
To review and edit the time of another person's timesheet
1. Go to the Time page.
2. Click My Time in the top right, the list of teams and users will open.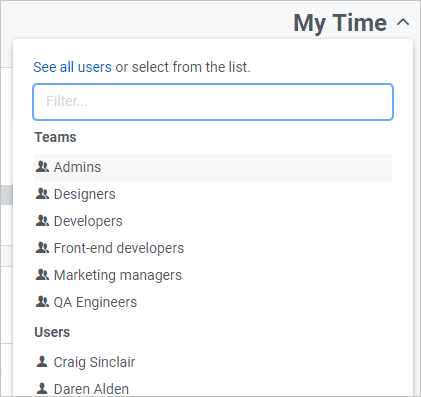 3. Find a required user using the filter and click its name to open his/her today's timesheet. 
4. Use the back and forth arrows or the drop-down calendar above the timeline to switch between days.
5. Edit the time as required. 
---
Didn't find what you were looking for?
If you didn't find what you were looking for, you can make a support request or email us to [email protected]. We'll be glad to help you personally.
Contact Us