How to Integrate TMetric Timer into a Web App
How to Integrate TMetric Timer into a Web App
Here you will learn how to quickly add a TMetric timer button into your favorite web app.
With the timer button, you can start tracking time in any team and project management system with only a single click. There is no need to stop the timer before switching to another issue. The integrated button will display the time you spend on each issue.
You need just a few simple steps to integrate the Start timer button into an app you frequently use:
1. Install the TMetric extension in the browser you prefer:
2. Click the TMetric icon on the browser toolbar and log in to TMetric.
3. After a successful login, click the Continue button. 
4. On the integrations page, find the app you need and click the switch (currently set to Off) to turn on the integration.
5. In the Permission Settings dialog, click Allow, and then Done. 
6.  Log in to the web app you use and you will find the Start timer button at the top of each task you create or open.
7. Click the button to start tracking your time.
There is also a possibility to quickly integrate the timer button into the web app you currently use by clicking the extension icon and then Integrate.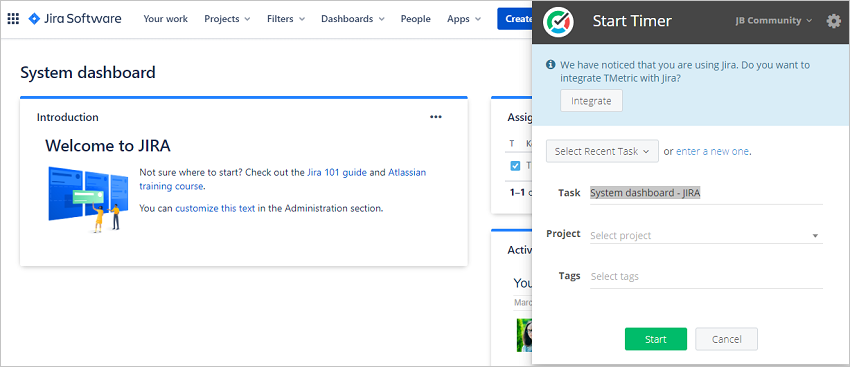 ---
Didn't find what you were looking for?
If you didn't find what you were looking for, you can make a support request or email us to [email protected]. We'll be glad to help you personally.
Contact Us