Free Trial Period
Free Trial Period
When you sign up to TMetric, you create a new workspace with a 30-day trial subscription. But if someone invites you to TMetric, a new workspace is not created in this case.
During the trial period, you can evaluate the product work. You can fully use all its features (available in the Business and Professional plans) and add an unlimited number of users. 
You can see the number of trial days left at the bottom of your TMetric screen, as well as on the Subscription page. 
How to get Free Trial Period
To get a free trial for TMetric, visit our website, enter your email address into the corresponding field, and click the Get Started button. You will then be able to use TMetric for 30 days without paying any fees.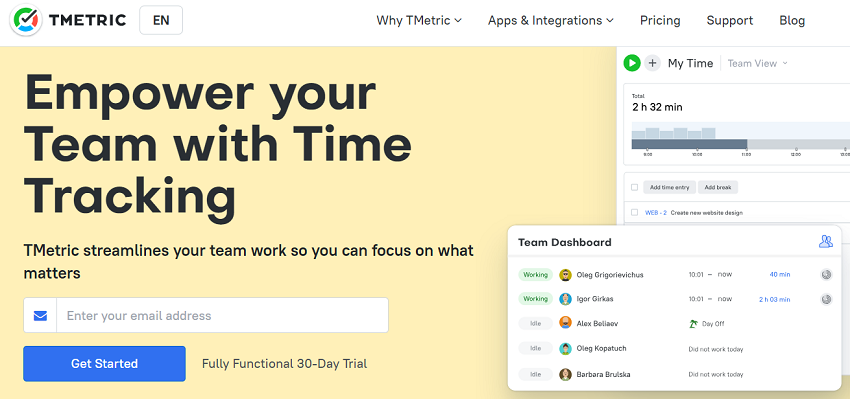 Note: The trial is available only to the users who have registered for less than 30 days, otherwise, when creating a new workspace, the workspace will automatically be on a Free plan. 
Evaluatіng the product work during the trial period
When evaluating TMetric during a trial period, you can assess the product performance, functionality, and user experience. 
If you enjoy our product, you can consider subscribing for TMetric before the end of the 30-day trial period or switch to a Free plan if you have already made such a decision. 
With a subscription, you'll get access to all superior features of TMetric. You will be able to use the full-featured time tracker for managing your projects within budgets, precise billing and invoicing your clients.
If the 30-day trial period was not enough for you to make a decision, you can extend your trial for another 7 days.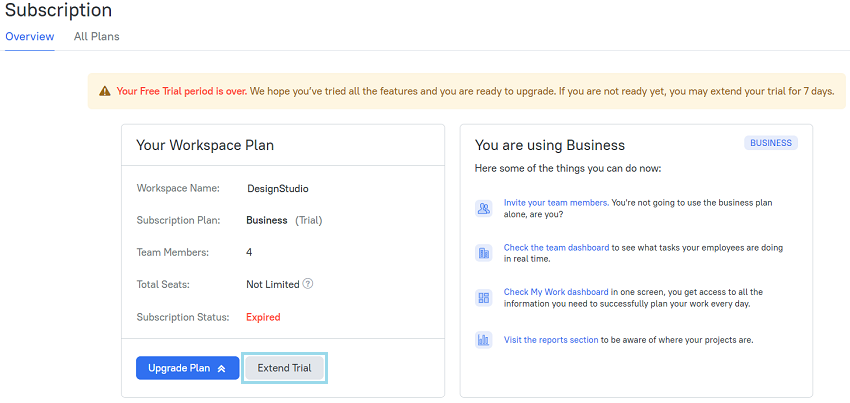 End of trial period
After the end of the trial period, the owner of the workspace must choose a plan (buy a subscription or switch to a Free plan). In this case, they will see only the Subscription page, and their employees will be able to use only the features of the Free plan until they make the final choice.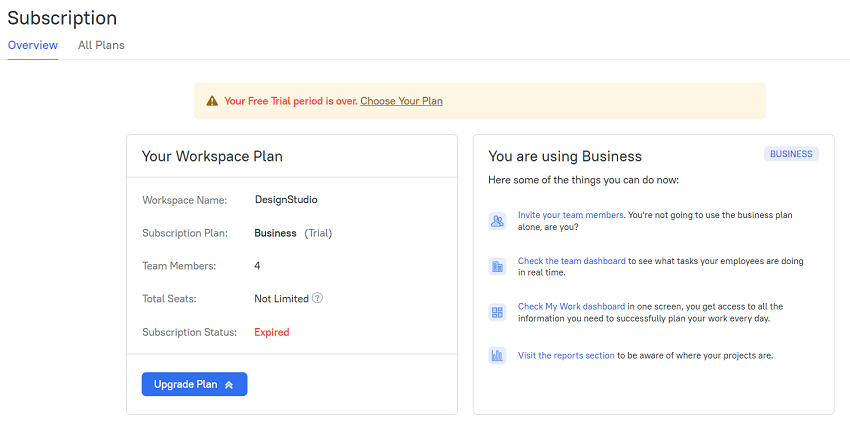 See Also
---
Didn't find what you were looking for?
If you didn't find what you were looking for, you can make a support request or email us to [email protected]. We'll be glad to help you personally.
Contact Us