Payment History and Invoices
Payment History and Invoices
This article explains where to find and view your payments for using TMetric in one place. You will also learn how to export your invoices to a PDF file for further financial reporting. 
You can see the history and status of your payments directly in the app. This will save you time searching for e-mails in the mailbox or invoices in 2Checkout.
To view your payments in TMetric, go to the Overview tab of the Subscription page. You will see a list of your past payments in the Invoice History section.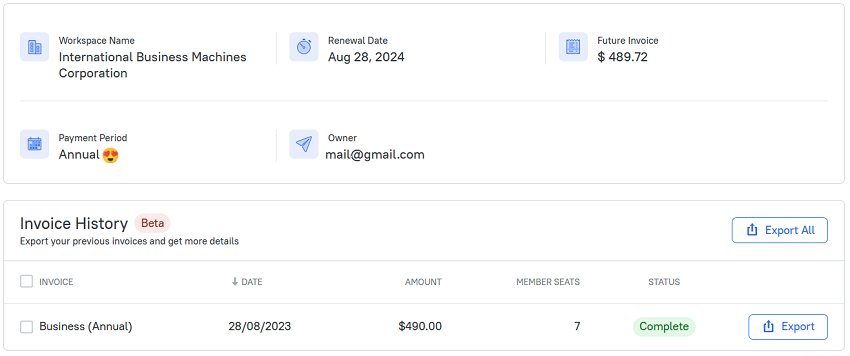 Each invoice includes all the details of your subscription payment:
Invoice - your subscription plan and its billing period.
Date - a payment date. By default, invoices are sorted by date (from new to older ones).
Amount - the invoice amount.
Member Seats - the number of seats on the subscription.
Status - a payment status from 2Сheckout. 
Exporting invoices 
In TMetric, you can download invoices as PDF files, for example, if you would like to forward them to the finance department. You can export both a single invoice, several of them and all of them at once (as an archive).
To export an invoice 
1. To export a single invoice, click the Export button on the invoice you need. 
2. To export several invoices, check the ones you need and click the Export All button. They will be exported as PDF files to an archive. 
3. To export all invoices at once, click the Export All button. Invoices will be exported to an archive. 
Once an invoice is downloaded from TMetric, you can send it by email or print it if needed. 
See Also
---
Didn't find what you were looking for?
If you didn't find what you were looking for, you can make a support request or email us to [email protected]. We'll be glad to help you personally.
Contact Us