Adjusting Time Off Balance for Team Members
Adjusting Time Off Balance for Team Members
You may need to adjust an employee's time off balance when:
A new employee is added to an existing time-off policy (for example, setting up vacation time available for him in the current year).
An extra day off is added to an employee's vacation (a bonus).
A balance is "reset" after a policy is edited (a vacation accrual schedule is changed).
To adjust a time off balance
1. Navigate to Time Off on the main menu, and then click Balances. 
2. On the Time Off Balances page, find a user whose time off balance you want to change, and click the menu icon next to his name. 
 3. Select Adjust Balance to open a dialog box where you can make necessary changes: either add or subtract time off. Here is a list of the fields you need to fill in:
Action - an action applied to a balance. 
Amount - the number of hours you want to add or subtract to/from an employee's balance. 
Effective Date - a date when the changes will be applied. 
Reason - a reason for adjusting a balance.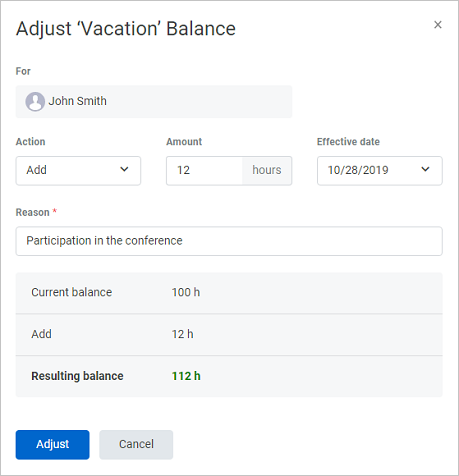 4. Once you finish, click Adjust and an employee's balance is successfully updated.   
---
Didn't find what you were looking for?
If you didn't find what you were looking for, you can make a support request or email us to support@tmetric.com. We'll be glad to help you personally.
Contact Us