How to Estimate Time Off
How to Estimate Time Off
Here you will learn how to quickly estimate time off either to plan a vacation or to view the accrual history if any issues about vacation spending arise.
To estimate time off
1. Click the action menu on the user's balance you need, and then select Estimate Time Off. 
2. In the opened dialog, you can get detailed information about a user time off:
The User and Policy field values are taken from the corresponding columns of a required balance. In the User drop-down list, you can select different users currently available to you (depending on your rights).  
The As of Date field is automatically set to the last day of the time range specified on the Time Off Balances page (the end of the current year). 
Balance - displays the number of remaining time off hours for a date selected in the As of Date field.
Display in days - allows displaying time off values in days (hours by default).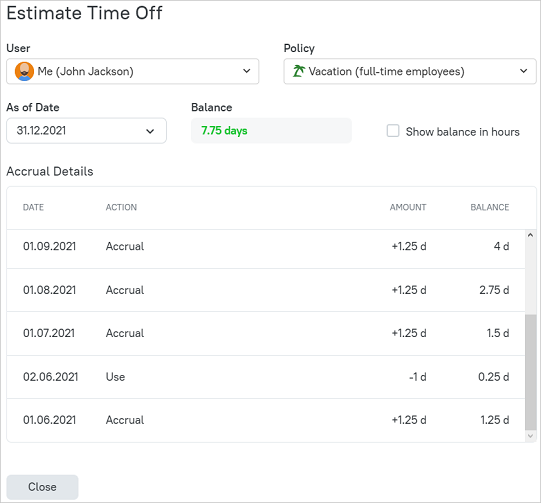 The Accrual Details table contains the following columns:
Date - displays a date when an action is applied to a balance. 
Action - an action type applied to a balance: accrual (earned time off), use (used vacation time), scheduled use (vacation time planned to use), reset (resetting a balance to zero), and adjustment (manual adjustment of balance including the reason for the change).  
Amount - displays the amount of time off either accrued or left after it is used/scheduled to use.
Balance - displays a balance on a particular day.
The table includes requests with Needs Approval and Approved statuses. 
---
Didn't find what you were looking for?
If you didn't find what you were looking for, you can make a support request or email us to [email protected]. We'll be glad to help you personally.
Contact Us