Locking Timesheets
Locking Timesheets
The account assigned owner or administrator can lock the timesheet data from being edited. Locking this data prevents regular members from being able to add, modify or delete their time entries and tasks once a certain period of time has passed since their creation.
For example, the administrator can specify a 3-day span during which members can make edits. Therefore, any entries older than 3 days will be locked from editing.
Locking a Timesheet
To enable this option
In the Account drop-down menu, choose Settings.

In the General Settings tab, find the Permissions section and select the Lock timesheets option where you can specify the exact number of days.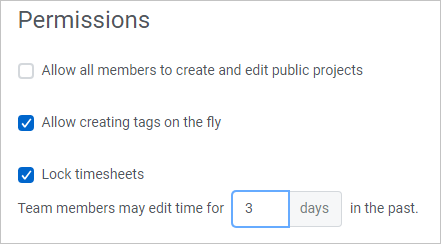 Locking Timesheets for Specific Time
There are other ways to lock timesheets for a particular period of time. This can be achieved by doing either of the following:
Creating an Invoice for a chosen timespan.

Creating a Report for the desired timespan and marking the time as Invoiced in the process.
In both of these cases, the invoiced time will be locked from editing – even the account owner or administrator would not be able to edit it.
To revert a particular timespan to an editable state, you will need to mark it as Uninvoiced. For this, in the Detailed Report, click the Billable time filter, select Invoiced, and click Apply Filter. Then, click the Mark Time button and select Uninvoiced. Now, the uninvoiced report can be edited.