ClickUp: Synchronizing Time
ClickUp: Synchronizing Time
ClickUp is a cloud-based solution for managing projects and collaboration in a team for any business. You can quickly integrate TMetric with ClickUp, track time spent on tasks, and accurately sync it for invoicing. 
Note: ClickUp time synchronization is only available in the Business plan.
How to track time in ClickUp
To start tracking time in ClickUp, you need to install the TMetric extension. Choose the browser you prefer, click the corresponding link below and add the extension to it. 
Once the extension is configured and installed, you will see the Start timer button in each ClickUp task. 
Click the button and the time spent on tasks in ClickUp will be recorded by TMetric. 
How to configure time sync with ClickUp
To integrate ClickUp with TMetric, do the following:
1. Navigate to the Integrations page.
2. In the New Integration drop-down list, select ClickUp.  
3. Specify your ClickUp instance URL.
4. Enter the API access key in the corresponding field.
5. Click Enable synchronization of tracked time.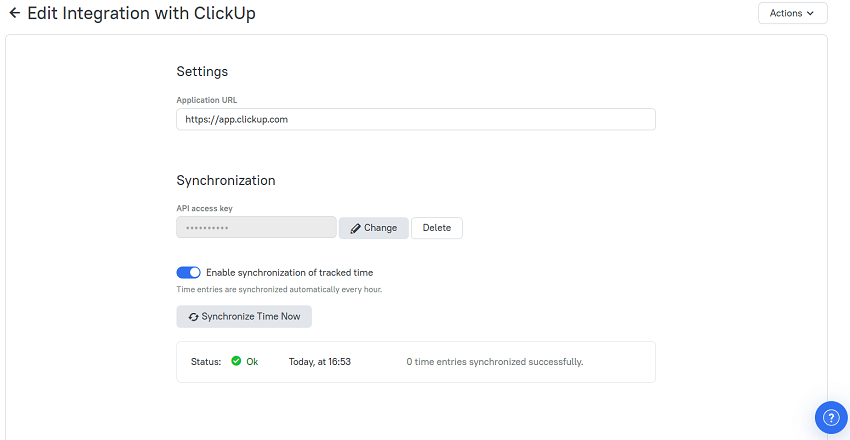 The recorded time will be automatically synchronized from TMetric to ClickUp every hour. The corresponding time entry will appear on the Time page in the TMetric web app. To run an immediate synchronization, click the Sync Time Now button.
---
Didn't find what you were looking for?
If you didn't find what you were looking for, you can make a support request or email us to [email protected] We'll be glad to help you personally.
Contact Us