How To Set Up Billable Project
How To Set Up Billable Project
Not all projects are billable. For example, your company's internal projects, for which you don't invoice your clients. In TMetric, you can easily separate your billable time from non-billable or assign custom hourly rates for different projects that will override the default billable rate set in your workspace.
This feature is available only in Business and Professional plans and can be set up by the workspace owner and assigned admin. The assigned project managers can only see the invoice method of the projects they manage. 
Setting Up Invoice Method
When you create or edit a project, select the Billable checkbox and then select an invoice method, project rate (if applicable), and project currency.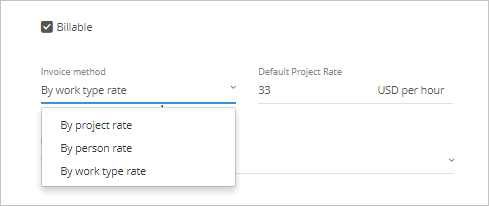 There are three types of invoice methods:
By project rate - the time is billed on an hourly basis according to the specified project rate. The project rate is automatically taken from the default billable rate (if preset). You can override it in the Project rate field for a specific project.  
By person rate - the time is billed based on the rates defined for members of a project under the Team tab. By default, they are pulled from the member billable rates. However, you can override them within a specific project under the Team tab by specifying a value in the Rate column for each member.  
By work type rate - the time is billed based on the rates of the work types defined under the Work Types tab of a project. 
See Also