Integrate TMetric with cloud applications and relational databases via Skyvia
Easily track time spent on different projects and tasks with TMetric and have this data automatically synchronized with other applications and databases using Skyvia.
Features
Time tracking in 1000+ web services
Simple integration, which will take a little time to configure
Timer button is integrated into each task/issue/ticket in every web service 
No need to stop timer before switching to another task/issue/ticket
Backlinks to any web service from TMetric
Each time entry contains a backlink to a web service task
Web service projects are mapped to TMetric projects
Web service labels are automatically assigned to time entries
Powerful Time Reports
See the time of your team in one place
Group, sort, and filter reports
Export time reports and invoice your clients
How to Integrate TMetric with 1000+ web services via Skyvia
This guide explains how to integrate TMetric with 1000+ third-party web services via Skyvia - a cloud data integration platform that allows you to easily connect and integrate various data sources (databases, CRMs, cloud storage services, etc.).
Requirements
TMetric Account - Free or Paid
Skyvia Account - Free or Paid
Both TMetric and Skyvia accounts have free and paid plans - see the TMetric pricing page and Skyvia pricing page for more info.
Configuring integration
To connect TMetric to Skyvia, follow the steps below:
1. Open the New drop-down menu in the top bar and click Connection.
2. In the list of the available connectors, select TMetric.
3. Click Sign In with TMetric in the Connection Editor.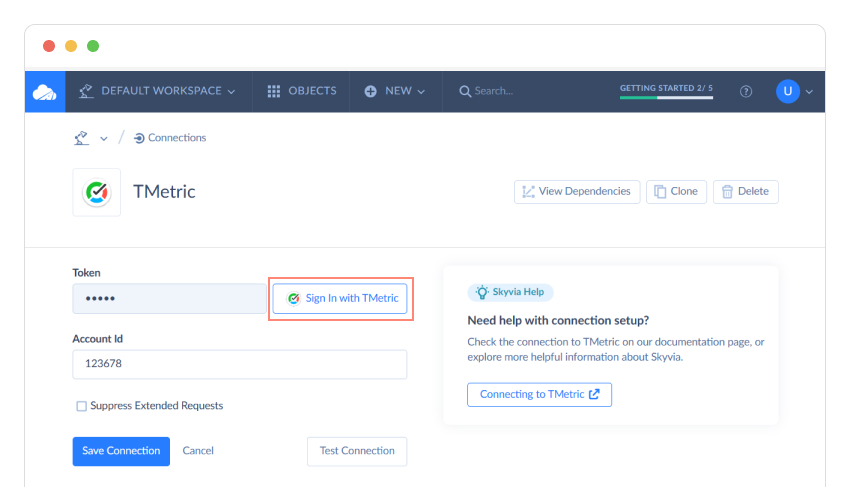 4. Enter your credentials and click Log In.
5. Specify the Account Id (copy the Account Id value from the URL. For example, in the URL: https://app.tmetric.com/#/tracker/234651/, the Account Id is 234651).
6. Click the Create Сonnection button.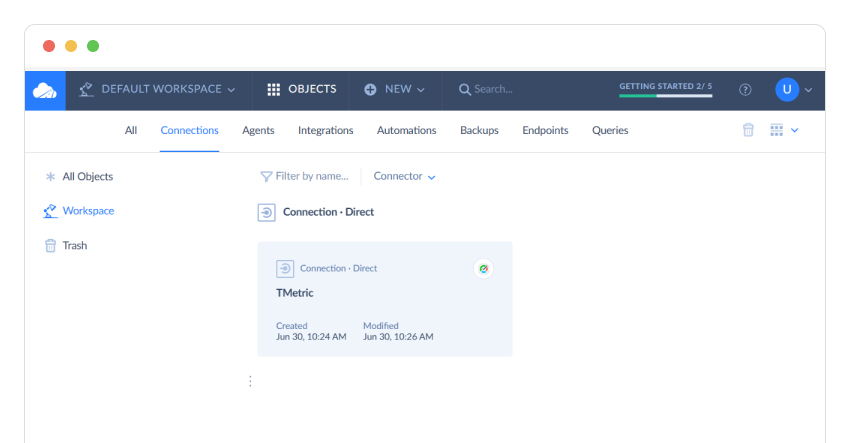 Once the connection is created, you will be able to:
Automatically import data into/from TMetric.
Export/import TMetric data to CSV files.
Replicate TMetric data to relational databases.

E

xpose your TMetric data via OData REST API.
There is also a possibility to manage TMetric data via Skyvia Query tool. Skyvia provides TMetric SQL editor with visual query builder that allows you to perform all the queries you need. 
Available integration scenarios
You can also use popular scenarios of TMetric integration with other applications through Skyvia. These are predefined templates for the most common TMetric integration cases, which require almost no configuration. For example, creating QuickBooks Online invoice from TMetric invoice, creating TMetric client for new Salesforce account, creating TMetric task for new Insightly CRM opportunity, and others.
Integrate TMetric time tracker with more than 100 cloud apps and databases via Skyvia. Load data automatically between different applications, sync it in both ways, import/export CSV and more! 
Read Hundreds of Reviews
4.5 Customer Rating
242 Reviews
Make time work for you!
Powered by
A software vendor with 20 years of experience.