TMetric Desktop Settings
TMetric Desktop Settings
To configure TMetric settings, click the Preferences tab on the TMetric Desktop main window.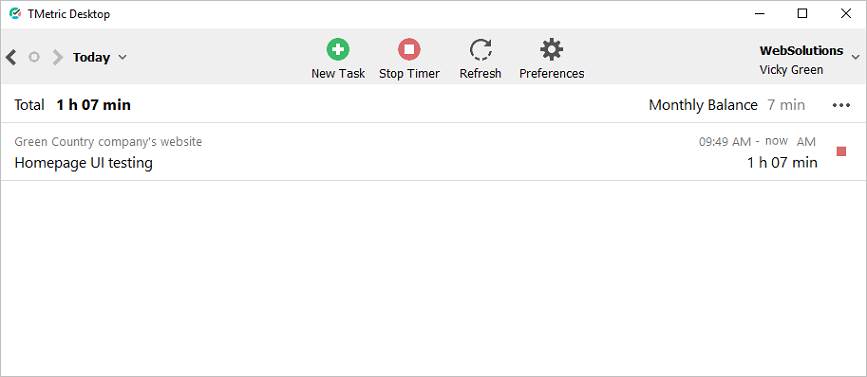 General
The General Settings let you configure the start/stop timer behavior and set up a time tracking reminder. Below is the list of available options with description: 
On application launch - allows configuring TMetric Desktop behavior when a user runs the app:
Start timer - if enabled, 

the timer starts a task with no description automatically.

Ask me to start the timer - if enabled, 

a user is prompted to start tracking his work time. 

Do nothing - the timer does not start and the desktop client does not prompt a user to start tracking his work time. 
Stop timer on application exit
If enabled, the timer automatically stops when you:
exit the application
end a user session
turn off or restart a computer
If disabled, a confirmation dialog box appears. 
Remind to track time
If enabled, a user is prompted to start the timer after the timer was stopped and a specified time interval has passed.
If disabled, a user is prompted to start the timer when starting the app.

Activity
Here you will find the options for tracking user productivity at work and monitoring apps and websites he mostly uses and visits during his workday.
Idle time detection - allows controlling inactivity time. 
If enabled, after a specified time expires, a dialog box appears asking whether to keep the idle time for the current task or discard it.
If disabled, then no matter how much time a user was inactive, no dialog box appears. In this case, if the timer is running for too long (more than 12 hours), the time of the last activity is still tracked.
Record activity levels - allows measuring user activity level and online time at his workplace.
Record apps and sites - allows tracking apps and websites that an employee mostly uses and visits at work.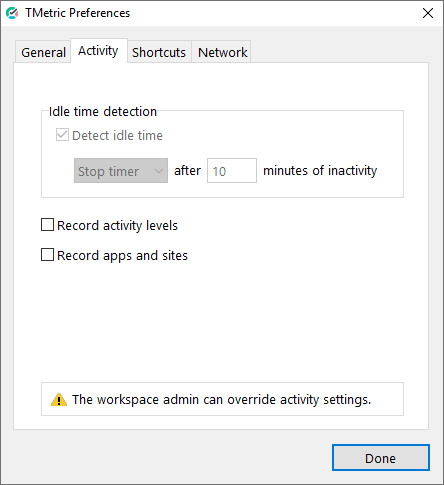 Shortcuts
Under the Shortcuts tab, you can specify key combinations for the Start timer, Stop timer, and New time entry options.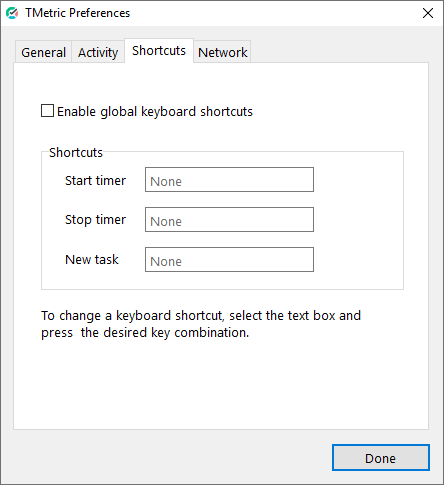 Network
Under the Network tab, you can configure proxy server settings.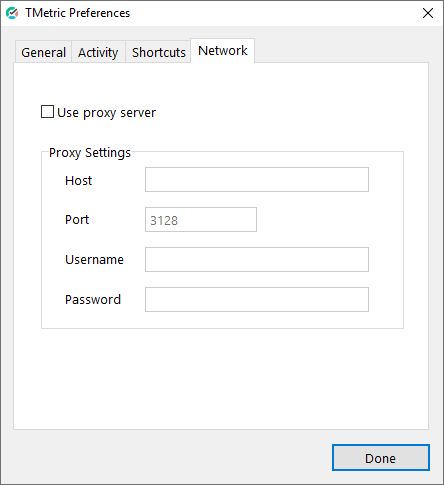 ---
Didn't find what you were looking for?
If you didn't find what you were looking for, you can make a support request or email us to [email protected]. We'll be glad to help you personally.
Contact Us