Using TMetric Desktop
Using TMetric Desktop
TMetric Desktop allows you to track time, enable tracking reminders, record user activity. It then seamlessly syncs data to the web version of TMetric.
Download the Desktop client available for Windows, macOS, and Linux.
Starting Timer
With TMetric Desktop, you can start tracking time without even opening TMetric web application. At the beginning of your workday, TMetric Desktop will automatically prompt you to start tracking your work time. During the first run, it will suggest starting a new task with no description.
During subsequent runs, TMetric Desktop will 'remember' the tasks you did, and will offer you to continue a recent task or to start a new task with no description:
TMetric tray icon
TMetric tray icon allows you to quickly start/stop timer, refresh the application, review and switch to a recent task, set up Preferences, log off TMetric account, open TMetric web and desktop apps, or exit the desktop client. Just right-click the tray icon and select a required option from the shortcut menu:
TMetric Desktop main window
To open the TMetric Desktop main window, either double-click the TMetric tray icon or right-click it and select Open Desktop App...
There are four buttons: New task, Stop timer, Refresh, and Preferences. The main window displays the project and the name of an active task, the time spent on the task, as well as the total time recorded for today.
When you click New task, a drop-down box opens, where you can either start a new task or select one from the list of recent tasks.
Click the Stop timer and Refresh buttons to stop the timer and refresh the app correspondingly.
Click the Preferences button to open the TMetric Preferences window, where you can configure various settings of the TMetric Desktop.
Away time
If there is no user activity for a predefined time, the Away Time dialog box opens, prompting you to select one of the following options:
Keep time for current task - the time will be added to your current task
Save time as a separate task - the time will be added as a separate task
Discard time - the time will be added as a break.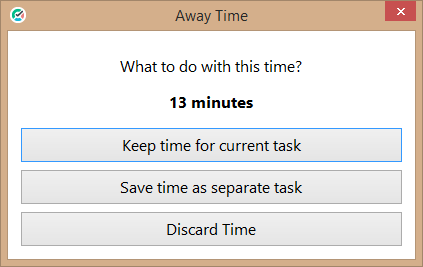 Long-running timer
In TMetric, time entries cannot be longer than 12 hours. If it happens, TMetric considers that you did not stop timer and prompts you to fix it by applying one of the following options:
Fix timer - select this option to allow TMetric  fix timer on the basis of your user activity.
Note: This option may be invalid if TMetric cannot retrieve your user activity.
Discard timer - select this option to delete the time entry that is longer then 12 hours.