Creating Payroll for Your Employees
Creating Payroll for Your Employees
This topic will help you understand how to manage your company's payroll and accurately pay your staff on time. 
In TMetric, you can assign cost rates to members of your workspace. These are the internal rates you pay employees. 
In other words, the member cost rate is what an employee or contractor costs you as a business. 
Setting up member cost rates
Navigate to Workspace, and then click

 

Members.
Click a required member. The

 

Edit Member

 

page will open.
Enter a corresponding value in the

 

Cost Rate

 

field. 
Click Save.
Changing member cost rates
If you want to change an employee's salary, just modify a cost rate initially set for him:
Go to the Edit Member page of a required member. 
Enter a new value in the Cost Rate field.
In the Cost Rate is effective from field, specify the day when the changes to the member cost rate need to be applied. 
Who can see member cost rates
Only the workspace owner and assigned admin can see and edit cost rates of a member.
Basically, a payroll is created based on the Team Summary report. This report shows summarized information about all the members of the workspace. The data is organized by person, team, workdays, days off, time, time balance, costs, online time, and activity level. You can easily export this data to a CSV or PDF file.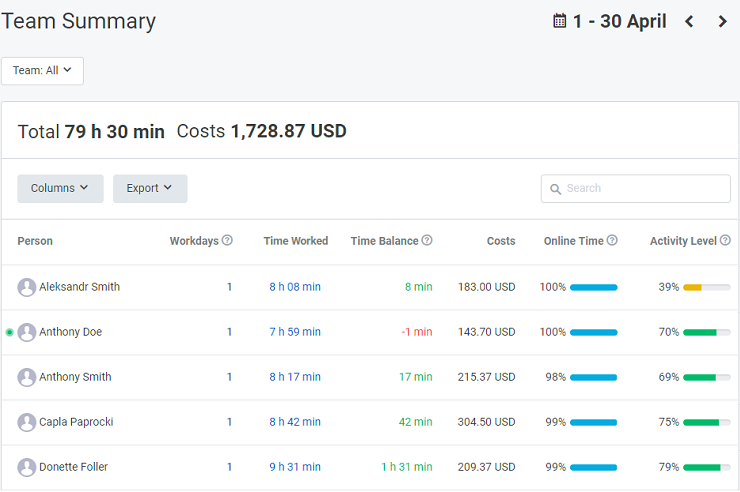 Employees' salaries are displayed in the Costs column. The Time Balance column shows the difference between the amount of logged time and the number of hours required by a work schedule. Time Balance is calculated depending on the work schedule set for all employees or individually for a particular user - by setting the Workday length value on the Edit Member page. When using Time Off, Time Balance will be calculated in another way. 
When you create a payroll, you can hide some optional columns: Online Time, Activity Level, Team. For this, click the corresponding menu and uncheck the columns you want to hide.  
Note: If there is a green or red (due to a forgotten timer) dot next to the employee's name, the data in a report will be inaccurate due to an active timer. 
---
Didn't find what you were looking for?
If you didn't find what you were looking for, you can make a support request or email us to [email protected]. We'll be glad to help you personally.
Contact Us