How to Request Time Off
How to Request Time Off
When you want to take some time off from work, you can easily create a time off request. Team members can only request time off for themselves. A workspace admin and owner have permission to create requests for other members. 
To create a new request
1. Navigate to Time Off on the main menu, and then click Requests. 
2. On the opened page, click the Request Time Off button. 
3. Fill in the fields below to request time off:
Requester - specifies a person who is asking for time off (this field can be seen only by admin). 
Policy - sets a policy to request time off under. 
Balance as of today -  allows selecting a date to estimate time off balance (by default, displays today's balance of a selected policy).
Approver - specifies a person who will approve or deny a request. If a policy doesn't require approval, the field is changed into Who receives the notification. Then, a person specified in this field will get a notification email, but won't be able to influence a request status. 
Request in hours - allows requesting time off in hours (days by default). 
Period - selects desired dates for taking time off from work. 
Days requested (Paid) - is calculated automatically by multiplying the Workday length option value (for a user) by the number of days within a specified time range. With the enabled Request in hours option, a user can change the generated value, but it should not go beyond one workday. 
Remaining balance - displays a balance value for the following day after the selected date range for days off. 
Description - allows adding more details about your time off request.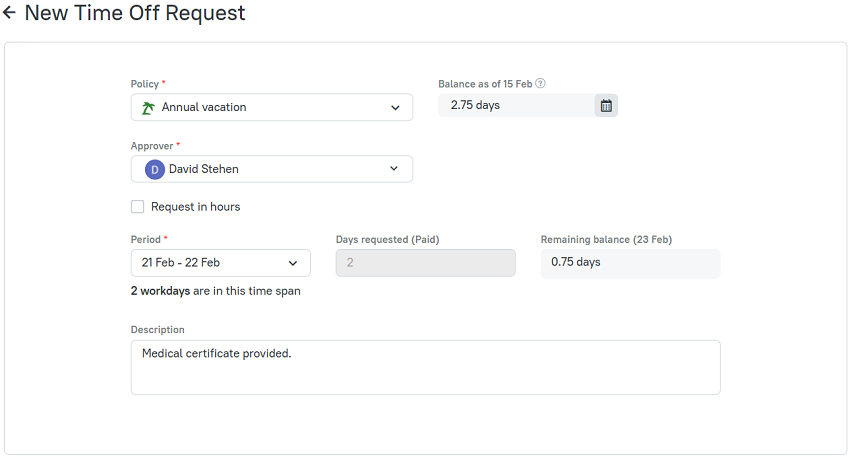 4. Click Save. Once a time off request is submitted, an email notification is sent to an approver either to approve or deny it. 
The list of all time off requests is available on the Requests page where you can manage them if necessary.
Email Notifications for Time Off Requests
For more convenience, TMetric sends an email notification each time a request is created, approved, denied, or edited. This notification can be sent both to Approver (either Admin or Owner) and Team Leads (persons who monitor a team's work a requester belongs to). So, first, there is no need to go to the Requests page to check time off requests. Second, if there is more than one level of management hierarchy in a company, users with a Team Lead role will be notified about time off requests from their team members.
An email notification is sent to each user separately and it looks as follows: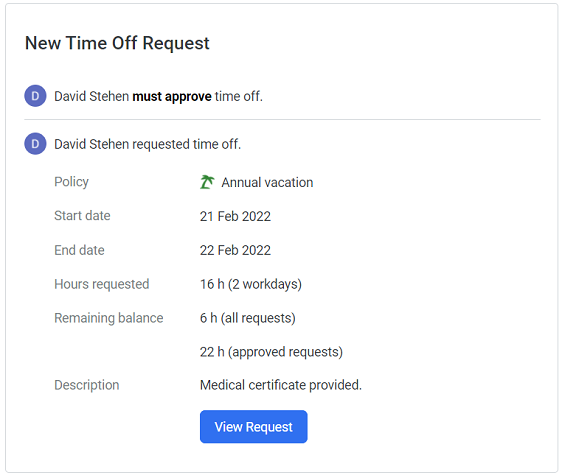 See Also
---
Didn't find what you were looking for?
If you didn't find what you were looking for, you can make a support request or email us to [email protected]. We'll be glad to help you personally.
Contact Us