Basic Concepts
Basic Concepts
This section illustrates the way things work in TMetric, and how to correctly set up your time tracking workflow and make things go right.
First, let's define some of the basic concepts in TMetric:
Time Entry 

is a continuous span of work time, during which a user performs one 

Task

. Time entry has a starting time and an end time. Time entry cannot be longer than 12 hours.

Project is a planned activity aimed at creating a specific product or service. It includes a series of tasks performed by different teams.  
Task (internal and external) is a piece of work that is performed by a user. 
Client is a company or a person requesting for a specific product or service. A project or a number of projects may be associated with a client. 
The below scheme demonstrates a way to configure your workflow in TMetric.
The TMetric's hierarchy starts with a client. You can assign one or more projects to a client. A project may further encompass a series of tasks performed by various teams. The tasks may be internal and external. An internal task is a task created inside TMetric in the Tasks area. An external task is retrieved from another system, with which TMetric is integrated.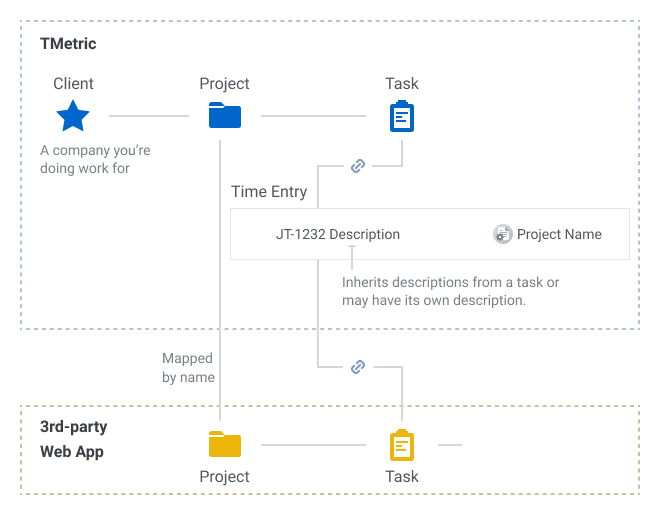 The following topics will help you prepare your account for work. It won't take you long to read them.
---
Didn't find what you were looking for?
If you didn't find what you were looking for, you can make a support request or email us to [email protected]. We'll be glad to help you personally.
Contact Us