Recording User Activity
Recording User Activity
When you start tracking time, TMetric Desktop records your working activity, as well as websites and applications you visited for more than 10 seconds. The activity is recorded only when the TMetric timer is active.
Note: Professional and Business plans provide an unlimited storage for user activity. Free plan allows storing user activity only for 7 previous days.
What information is collected?
TMetric Desktop collects the following information:
Duration of an event
Name of an application
Name of a window
Note: TMetric does not collect any private information (e.g. passwords, logins, etc.).
Viewing user activity
To view your activity, click the Action Overflow icon in the top right and select Show User Activity.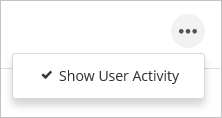 User activity is represented by a set of blue vertical bars that are displayed over the timeline. Each bar represents 10 minutes of your work. The height of a bar depends on how many minutes of the 10-minute span you have been active for. Hover the mouse pointer over a bar to see 2 top time-consuming events for the period.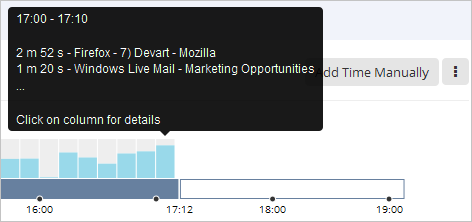 Click a bar to get a detailed activity report for the period.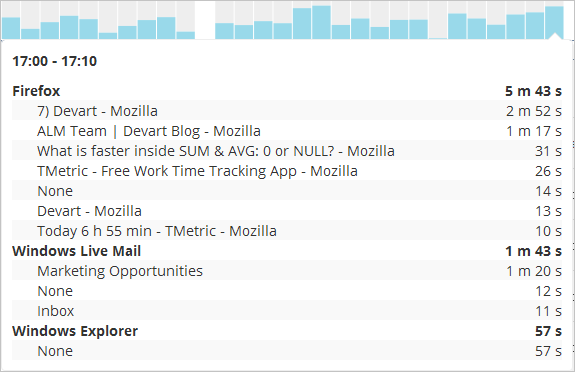 Note: Your user activity is visible to you, owner of the account, the assigned admin, and team lead.
The timeline is a visual representation of your workday that helps you easily manage and analyze your time. The following screenshot shows what the timeline looks like at the end of a workday:

The timeline lets you:
quickly evaluate:

duration of all tasks for a day
frequency of switches between tasks
the number of breaks

easily edit time entries
see how exactly you were using your computer throughout the day
By default, the timeline has a 24-hour time format. You can change it to a 12-hour format in the My Profile settings. 
Deleting user activity 
When you delete a time entry or add a break, the user activity recorded for this time period will be erased.
See Also